Episode 17: Starting Your Own Nonprofit with Scott Kratz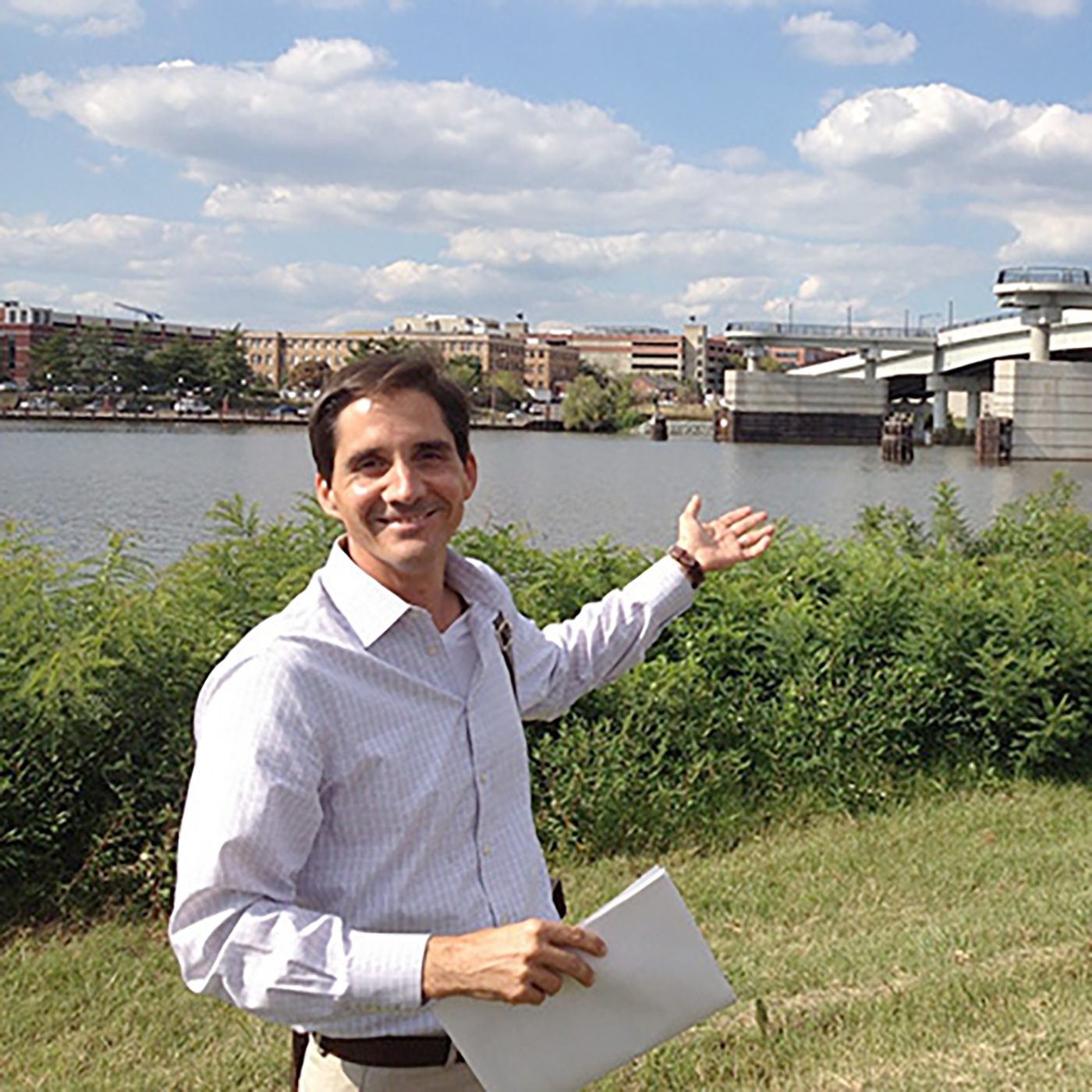 Scott launched a nonprofit five years ago, with an ambitious plan: to build a bridge over the Anacostia River. If he is successful, in 2019 there will be a $45 million, three-acre park connecting long-divided neighborhoods Anacostia with Capitol Hill. We talked to him about how he's turning this vision into a reality, and what it takes to build an organization to accomplish such an audacious goal.
The idea was first hatched by Harriett Tregoning, the former Director of the Washington D.C. Office of Planning. She recruited Scott to see if it would be feasible to transform an old freeway bridge into a park and activate the large amount of green space along the underused river. The bridge would serve four ambitions: improve the health of local residents by providing access to safe places to play in the adjacent neighborhoods; re-engage residents with the Anacostia River; stitch together the city; and become an anchor for equitable and inclusive development in an often neglected part of the city.
Before embarking on this quest, Scott worked in museum education for 20 years, most recently as Vice President for Education at the National Building Museum. But he left all that behind to form an organization to build the bridge.
Now you can find him, or one of his staff, out most evenings, engaging with the community and raising community support and funding for the project. According to Scott, building a nonprofit is all about building trust, and jealously guarding your time.
Resources:
Anacostia River Festival – On Sunday, April 17, 2016, the 11th Street Bridge Park is hosting this festival in partnership with the National Park Service and 25 local partners who are providing programming. This is the official closing event of the National Cherry Blossom Festival.
Building Bridges Across the River at THEARC – The 11th Street Bridge Park is a project of this non-profit, a home away from home for the many underserved children and adults of East of the River, enabling them to participate in dance classes, music instruction, fine arts, academics, continuing education, mentoring, tutoring, recreation, medical and dental care, and other services at a substantially reduced cost or no cost at all.
Atlanta BeltLine – A former railway corridor around the core of Atlanta, Georgia, under development in stages as a multi-use trail. They created equitable development plan which has become model for the Bridge Park.
LISC DC – The DC chapter of the Local Initiatives Support Corporation (LISC), the nation's largest community development support organization. They donated staff time to the Bridge Park to help form the equitable development plan.
Great Green Places – Short video tours of sustainable communities that Scott put online when he was with the National Building Museum.
High Line – A 1.45-mile-long New York City linear park built in Manhattan on an elevated section of a disused New York Central Railroad spur called the West Side Line.
Klyde Warren Park – A 5.2-acre public park in Downtown Dallas, Texas. The park is over the Woodall Rodgers Freeway, and opened in 2012.
Shelby Street Bridge – The John Seigenthaler Pedestrian Bridge is a truss bridge that spans the Cumberland River in Nashville, Tennessee, United States. It was originally opened on July 5, 1909, and was reopened as a pedestrian bridge on August 3, 2003.
Purple People Bridge – A pedestrian bridge crosses from the Southbank of Cincinnati, Ohio, to the Northbank of Newport, Kentucky
Manna Inc.- A nonprofit developer of quality, affordable housing in the District of Columbia that is partnering with the 11th Street Bridge Park to run a Home Buyers Club in the neighborhoods near the site of the future bridge, with the goal of transitioning local renters into home owners.